by David Clarke and Andy Roberts (originally published in UFO Magazine, 2002)
In April 2001 we became the first UFO researchers to obtain access to a copy of the 'secret' report drawn up by the 'Flying Saucer Working Party.' The team of five technical intelligence specialists had been created by the Ministry of Defence following a wave of 'saucer' sightings and newspaper headlines in the late summer of 1950. The Working Party's deliberations came to an end in June 1951 when their highly sceptical final report and conclusions were presented to the MoD and CIA at a secret meeting at the Metropole Building in London. That meeting, and the very existence of the study itself, had been officially denied for half a century.
The breakthrough came at the end of two years research at the Public Record Office, where we had located, in 1999, the 'Top Secret' minutes of the MoD's Directorate of Scientific Intelligence. They revealed how the Working Party had been set up at the behest of the respected Government scientist Sir Henry Tizard during the autumn of 1950, with a remit to investigate future reports and share intelligence on UFOs with the Americans.
A mere six pages in length, the Working Party's DSI/JTIC Report No 7 contained detailed accounts of just three UFO sightings which the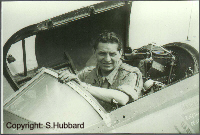 team had deemed to be worthy of a field investigation. All three had been "reported officially by experienced officers from RAF stations," and two originated from the same witness, Flight Lieutenant Hubbard, who at the time was a test pilot based at the Royal Aircraft Establishment, Farnborough.
Hubbard's first sighting of a 'daylight disc' was summarily dismissed by the Working Party as being either an "optical illusion...or some quite normal type of aircraft." His second sighting occurred three weeks later, on 5 September 1950. This time he had five other RAF officers who were present on the watch-tower at Farnborough. This report was also dismissed by the investigators, who concluded that the six experienced airmen had been deceived by "some quite normal aircraft, manoeuvring at extreme visual range."
Half a century had passed since the Working Party's deliberations when we presented a copy of Report No 7 to Wing Commander Stan J. Hubbard, now retired from RAF after a long and distinguished flying career. Hubbard had heard nothing officially from the MoD since the day he was interviewed in great secrecy by Scientific Intelligence during the autumn of 1950. He was stunned when he read the conclusions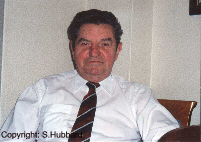 they had reached. When in April 2002 Wing Commander Hubbard visited London on business he invited us to meet him at the Royal Air Force Club in Piccadilly to discuss 'flying saucers'. This was our opportunity to obtain an exclusive interview with the man whose sighting set alarm bells ringing in Whitehall all those years ago.
Years of investigating UFO claims and quizzing witnesses have left us highly sceptical, but even we have been forced to reconsider my conclusions in the light of Hubbard's story and others described in our book Out of the Shadows. Hubbard's testimony adds much new information to missing jigsaw pieces left behind by the Flying Saucer Working Party's deliberations.
They also made us ponder over the meaning of the words used in the cover-note sent by the MoD's Director of Scientific Intelligence to Sir Henry Tizard when he was presented with a copy of Report No 7. This read simply:
"...This is the report on "Flying Saucers" for which you asked. I hope that it will serve its purpose." »

---