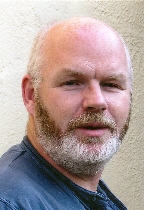 Has been interested in strange phenomena since he was a child. He began active investigation and research of UFOs in 1983. He has been active in many investigation groups, including BUFORA and the IUN and is one of the country's leading ufologists.
His main fields of study are: the social history of ufology in the UK, UK
contactees, UK UFO crashes, specifically the Berwyn Mountain UFO crash, foo-fighters, the Warminster phenomenon, UFO hoaxes, and witness perception.
His position statement on UFOs is: Humans have witnessed unexplained aerial phenomena for millenia. Each generation has it's own interperatation of what these phenomena are, from flying dragons to phantom airships to extraterrestrial craft. As no physical evidence for any of these interpretations has been found it is a reasonable assumption that all UFO phenomenon is a mixture of witness perception and belief, together with the processes of folklore and mythology, well stirred by a compliant media.
Besides a dedication to the subject of ufology Andy is also active in the field of Fortean research and has written widely about such diverse subjects as The Big Grey Man of Ben Macdhui, Screaming Skull Legends, the Genius Loci and the telepathy experiments carried out by the Grateful Dead, among others.
When not answering the call of the weird he manages several hostels for homeless young people in Wrexham and pursues many other interests including hill walking, kite flying and UFO hoaxing.
ANDY ROBERTS
Is the author of
Catflaps: Anomalous Big Cats in the North, Brigantia Books ,1986/CFZ 2001
Phantoms of the Sky (with David Clarke), Robert Hale, 1989/90
Earthlights Revelation (contributing author), Blandford, 1991
Ghosts & Legends of Yorkshire, Jarrold, 1992
Twilight of the Celtic Gods (with David Clarke) Blandford, 1996/97
The UFOs That Never Were (with Jenny Randles & David Clarke - Feb. 2000)
Out of the Shadows (with David Clarke), Piatkus, 2002
Strange Secrets (with Nick Redfern), Paraview, 2005
In addition Andy has contributed chapters to the following compilations:
UFOs 1947-87, Fortean Tomes, 1987
Phenomenon, Macdonald & Co., 1988
Fortean Studies 3, John Brown Publishing, 1996
Fortean Studies 5, John Brown Publishing 1999
TV
Andy has contributed to many local and national TV and radio shows. He worked as a consultant on and appeared in:
The Isle Is Full Of Noises, Everyman, BBC1, 1/11/92
Down To Earth, Fourwinds, Discovery channel, also shown on Channel 4
Origin Unknown, Granada, Jan/Feb 1999
The Haunted Valley Granada, November 2000
Timewatch, BBC1,
Danny Wallace's Hoax Files, Sky 1, December 2005
Radio
Major Magazine Articles:
Andy is a frequent contributor to Fortean Times and one of its monthly UFO columnists. His feature length articles for Fortean Times include:
http://www.forteantimes.com/articles/191_space1.shtml
http://www.forteantimes.com/articles/174_deathray.shtml
http://www.forteantimes.com/articles/164_govtxfiles.shtml
http://www.forteantimes.com/articles/088_rockin.shtml
http://www.forteantimes.com/articles/180_grateful1.shtml
Andy edited the seminal UFO magazine, UFO Brigantia, for 25 issues and also edits the sporadic scandal-rag The Armchair UFologist.
In addition Andy has written for numerous publications including: The
Dalesman, , Fortean Times, UFO Times,The Guardian, Yorkshire Post, Bradford Telegraph & Argus, Magonia, Northern Earth, Folk Roots, Rock'n'Reel, Exploring the Supernatural, The Unknown